Jazz Is: Now Curatorial Fellowship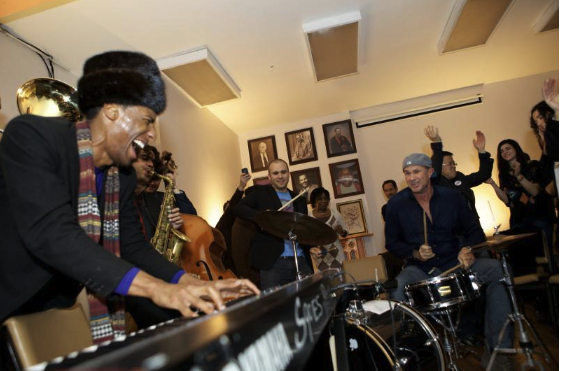 When Jon Batiste first moved to New York City, he started presenting shows at the National Jazz Museum in Harlem under the banner of "Jazz Is: Now."  He brought in special guests, worked out a band that would eventually become the Stay Human band (who later joined him on the Steven Colbert Show), and he built community around intimate, joyful, and celebratory musical experiences.
Those who attended one of Jon's shows in the back room of that church on 126th and Madison Avenue remember most shows closed with a second line "Love Riot" that led everyone to the legendary Sylvia's Restaurant in Harlem.  As Jon's career continued to grow, and he became one of the Museum's Artistic Directors, he wanted to make sure the opportunities he had with the Museum to curate and present music in the spirit of community and love, continued for other young artists. That is how the NJMH Jazz Is: Now Curatorial Fellowship was born.
What is the Jazz Is: Now Curatorial Fellowship?
Each year two (2) Jazz Is: Now Curatorial Fellows are selected.
Each fellow will receive a stipend of $8,500 for the year.
Each fellow will curate 6 events at the National Jazz Museum in Harlem.

Two events feature a group led by the fellow.
Two events feature a band they feel represents the current music scene.
Two events will be non-live music events – this could be an interview, discussion, presentation or film event.

NJMH will provide funding and additional resources to support artist fees and production costs.
Each fellow will perform at a major NJMH community event (for an additional artist fee).
Each fellow will meet with NJMH staff to discuss curation and ways to leverage the fellowship to build experience and professional skills that will support their career moving forward.
Each fellow will be provided with 16 hours of free rehearsal space at the National Jazz Museum in Harlem (to be scheduled with Museum team).
Compose one hand written leadsheet for use as an honoree gift at the Museum's annual fundraiser.
Who Should Apply?
Artists based in the New York City area. (Fellows must be able to meet regularly at the Museum and attend all curated events.)
Artists able to commit to the full scope of the fellowship including representing the "jazz in Harlem experience" in their work.
Artists able to meet deadlines and provide deliverables as outlined in the job description and provided by NJMH.
Artists must applicants be aged 18 to 30.
Artists cannot be enrolled in academic, conservatory, college, or degree-granting programs during the fellowship.
Timeline: –
2024 Application period closes on December 31, 2023
Notification of award February 1
Fellowship begins February 2
Fellowship ends December 31st, 2024
If you would like to review the application before applying, you can download the application HERE.
Please complete the online form for your official application. If you have trouble uploading any documents to the application portal, please email the documents to info@jmih.org with your name in the subject line.
Major funding for this initiative is provided by The New York Community Trust Van Lier Fellowships